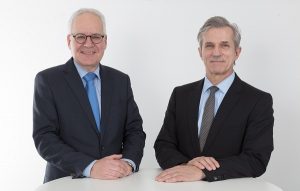 Dr. Rudolf Schwabe, Managing Director and CEO,
and Prof. Dr. Thomas Zeltner, President of the Board of Directors Swiss Transfusion SRC

Eloquence or reticence?
Most organisations are eloquent and detailed in their reasoning when they want more money for their products or services. These same organisations are often somewhat reticent when asked about their price-performance ratios. People are happy to talk about money when they want more of it, but far less willing when someone wants to know what they have done with it.
Organisations that receive state funds and/or financial donations have an obligation to ask themselves these questions though. While Swiss Transfusion SRC does not receive state funds or financial donations for its blood division – which is funded solely through the sales of its products to hospitals – the situation in its core blood stem cell area is different. We have had a clearly defined mandate from the Swiss government to supervise the registry, associated with commensurate compensation, for a few years.
Thus, we are one of the organisations whose use of funds is subject to scrutiny, and for good reason: Firstly, we hold a de facto monopoly in our primary area of activity, the acquisition, processing and delivery of blood. Secondly, we are part of the public health system, so the hospitals pass our expenses along to premium payers and (cantonal) taxpayers.
Through 2004, the blood transfusion system in Switzerland was highly federalist in its structure, and there was little in the way of national acquisition planning or systematic exchange among the regions. Somewhat bluntly put: each region looked to itself.
This has changed enormously in the past years: first with the reform in 2005, then with the mergers and partnerships between individual regional blood transfusion services, and now with the planned restructuring, which will cut the number of acquisition zones in our country down to four.
The same questions have lain behind each of these steps: How can we optimise our structures and processes? How can we become more efficient without compromising on quality?
The reforms mentioned did result in optimisations and efficiency increases, as the relevant figures demonstrate. As explained in the January 2018 edition of our publication «Blutbild», most of our sales prices have remained constant since 2005. Only the price for blood platelets had to be raised, owing to the cost-intensive implementation of a pathogen inactivation procedure.
The picture presented by total expenditures is also a favourable one: over the 2005–2016 period, gross revenues from all blood product sales rose only 15 per cent, an increase due largely to the new platelet processing procedure mentioned above. The increase in total healthcare expenditure in Switzerland over the same period was 40–50 per cent.
Switzerlands blood transfusion services are now operating at substantially higher level of efficiency and cost effectiveness than they were ten years ago, without having made any sacrifices in terms of quality or service. On the contrary: the introduction of new, improved testing methods was partly responsible for an increase of nearly 4 per cent in the production costs of our most important blood product – red blood cell concentrates – in this period. This translates to greater safety at the same price.
So, we have never sought to evade questions about the efficiency of our use of funds, but have instead broached them ourselves, again and again. And we are continuing to think about where and how our organisation can become even more efficient. There will be further reforms in the future. We do not wait for government authorities or politicians to look for ways to cut costs in our organisation; we tackle the issue ourselves. We owe this to our donors and to the public because we are, de facto, a monopoly organisation.
Prof. Dr. Thomas Zeltner
President of the Board of Directors
Swiss Transfusion SRC
Dr. Rudolf Schwabe
Managing Director and CEO
Swiss Transfusion SRC
The right donation for every patient.

Dr. Rudolf Schwabe
«We n tice it m st when it's g ne»
14 June: World Blood Donor Day
Learn more »
Together against leukemia
Sponsored run in Basel
Learn more »
HIGHLIGHTS
Big turnout across the borders
Registration drive in Constance
Learn more »
What is a blood stem cell donation?
Information campaign for the Swiss Armed Forces
Learn more »
2017
Everyone lends a hand
Record participation on the Day of the Deed
Learn more »
Motivating the younger generation
Instagramming about blood and blood stem cell donation
Learn more »
Concentrated expertise
Swisstransfusion congress
Learn more »